AgroActiva: 330 Successful Interviews in the International Business Round
11/06/2018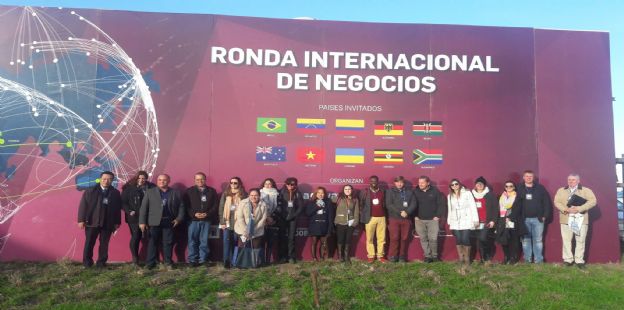 AgroActiva 2018, the 24th edition of the renowned fair, offered its traditional International Business Round, organized by ProCórdoba Agency, the Federal Investment Council and the Government of the Province of Santa Fe, with the support of the National Institute for Agricultural Technology, and the Ministry of Foreign Affairs and Worship of the Nation.
Luis Gilli, ProCórdoba's Trade Promotion Manager, referred to the over 330 business round interviews:
"This is the 12th edition of the business round we have organized. On this occasion, we have selected operators from new markets that are visiting the fair for the first time. They are foreign importers working in the agricultural machinery and agroparts industry, who are strategically related to markets we have been working to transform into long-term markets, such as African countries like South Africa, Kenya, Angola and Uganda; other countries like Ukraine or Germany, Australia and New Zealand; and, from Latin America, Colombia — which is becoming a strong market — and Brazil. Argentine entrepreneurs have risen to the challenge, successfully facing the demand, and each has had the opportunity to hold an interview with all the international operators."
Importers also shared their thoughts on the experience. Viet Nam's Hai Son representative Huyen Dihn said,
"We are a leading company in the import and export agricultural machinery market. We were invited to the fair and I feel very lucky to have had this great opportunity. Argentina is a country with extensive expertise in agriculture. It can offer modern technology and everything we need to learn in order to improve our company. Thanks to this trip, we have been able to learn about many techniques and we have discovered companies that provide high-quality spare parts for the development of rice crops. We are interested in applying GPS technology to our crops. ProCórdoba has been a great host. We have felt more than welcome, and I definitely want to come back."
Uganda's South Farmers Co. representative James Nyikole talked about the expectations they had regarding this visit to AgroActiva and their participation in the business round:
"Our company works in South Sudan, Uganda and Rwanda. The experience has been very positive. We have met with potential machinery providers and we will continue our business relationship with them in the near future."
The Cordobese company TBeH participated in the fair as an exhibitor and also in the business round. The firm's representative, Martin Dosetto, explained that the company is devoted to the manufacture of agricultural vehicles. He added, "On this opportunity, we met with operators from Brazil, South Africa, Australia, Uganda, Colombia, and Ecuador. We've made great, serious, responsible contacts who gave us good feedback on our line of products. We have seen a good response on the part of Colombia, with whom we had already had some talks, and we were able to analyze specific aspects about the business. Operators from Brazil also expressed an interest in our line."
Dosetto further noted the interest shown by the Ugandan operator, "since, despite the operator not being familiar with our product line, he identified a market niche in Uganda that may be satisfied by our company. We believe there's a chance we will close some deals with them."
Finally, he referred to TBeH's relationship to ProCórdoba,
"We have been working with the Agency for ten years, participating in business rounds and trade missions abroad. All these experiences have yielded positive results and armed us with useful information. They are a good way of encouraging companies to enter the export market. For an SME like ours, exporting is a big challenge that is not free of doubts and fears; but whenever these appeared, we turned to ProCórdoba and obtained answers to each issue."
The agricultural market's biggest fair in Argentina took place in Armstrong (Santa Fe Province) on June 6-8, and welcomed a large number of national and international visitors. Manufacturers of agricultural machinery and agroparts had the chance to exhibit their products before operators that visited Argentina with the sole purpose of learning about our country's offer.
View all news